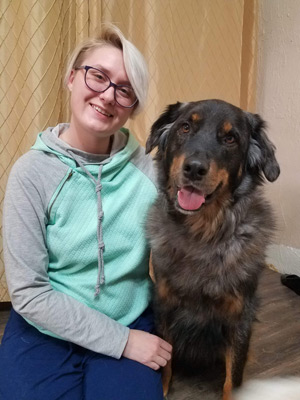 Laura Kimes
Veterinary Assistant, All Pets Clinic
Hi my name is Laura. I am 22 years old and a veterinary assistant here at All Pets! In the future though I will be going back to school to become a certified veterinary technician. I have been working in the veterinary field for about 5 years now, and I would definitely say that working with animals in a passion of mine.
In my free time I volunteer for mending spirits animal rescue and love to spend time with my 5 year old Aussie/Rottweiler mix Harvey Dent who is my best friend. When I am not working you will find me working with Harvey on his agility skills and finding objects by smell. Since he is a hearding breed, I am always finding new ways to keep him active and entertained.
I am very excited to be here at All Pets and I am looking forward to meeting all of you and your pets.