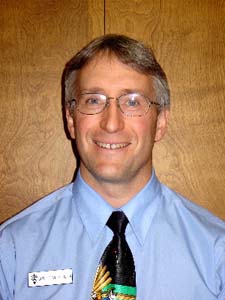 Dr. Tim Klein
Owner/Veterinarian, All Pets Clinic
Dr. Tim Klein grew up on a farm near Ashton, Iowa. He received his Doctor of Veterinary Medicine degree from Iowa State University in 1989. He worked a mixed small animal practice in Grinnell, IA until 1993 when he and his family moved to Wells. For the next 10 years Dr. Klein did swine health and production consultation. He then returned to his small animal roots, and has been 100% small animal practice ever since, which he has enjoyed immensely.
In 2008 he and his wife Bev became owners of All Pets Clinic in Mapleton. He enjoys all aspects of his practice and is honored that clients bring pets who really are members of their family to All Pets Clinic. Dr. Klein feels that his responsibility is to not only minimize illness in his patients, but to do that in a way that gets things back to normal in his client's homes, because when a member of the family is ill things are not right at home. He has a special interest in orthopedic surgery, rehabilitation, and physical therapy.
Dr. Klein currently lives on an acreage near Wells with his wife Bev and the youngest of their five children. Two of his children have graduated from college and two are still attending college. Outside of work he enjoys reading, running (he tries to run a marathon each year with Bev), hiking, biking, and going to his kid's functions.