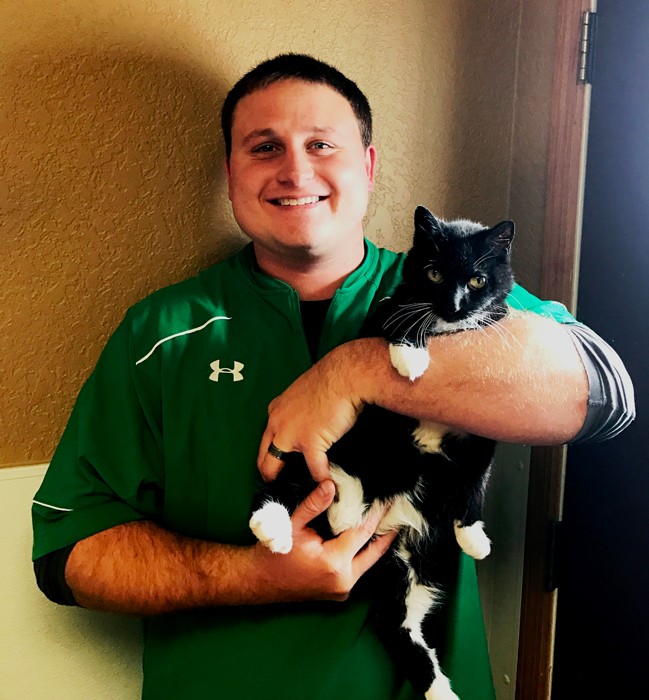 Dr. Jordan Stenzel
Chiropractor, All Pets Clinic
Dr. Jordan Stenzel grew up in Easton, Minnesota. He enjoyed his time growing up in a small town and is looking forward to returning to the lifestyle and values of a rural community.
He received a degree in Biology from the University of Wisconsin-La Crosse, and in 2015 he graduated from Palmer College of Chiropractic in Davenport, Iowa where he received honors for his skills in Sport Injury and Rehabilitation. Later in 2015 he became co-owner of Innate Wellness, with offices in Blue Earth and Mapleton.
In addition to his human Chiropractic degree, Dr. Stenzel has earned additional credentials in animal Chiropractic (CVSMT – Chiropractic Veterinary Spinal Manipulation Therapy Certification). He provides chiropractic care for patients at All Pets Clinic. Our clients have shown a lot of interest in this service and we are very excited about this cooperative arrangement with Dr. Stenzel!
At home he really enjoys hanging out with his wife Kate and daughter Ila. He also likes hiking and camping, and is a big Vikings fan.
Dr. Stenzel enjoys being a chiropractor and is excited about the opportunity to help the patients here at All Pets Clinic!